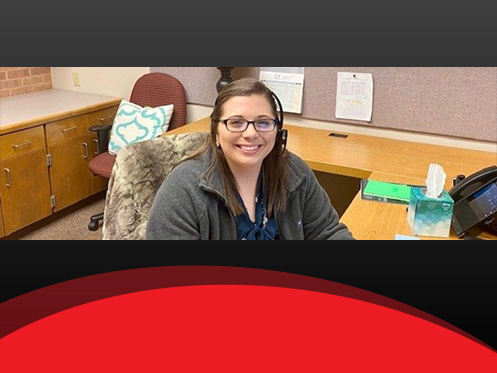 GVEC Internet has a long-standing reputation for delivering stellar customer service. We feel part of the reason we're able to exceed expectations is because our employees live and work in the same communities as our customers. This means the professionals at GVEC Internet have a vast understanding of the needs and wants of our consumers on a more personal, local level—even when a customer needs to call us for troubleshooting their internet.
When you experience issues with your internet—from trouble setting up GVEC Internet email to not being able to connect to your router—calling GVEC Internet during business hours will put you in touch with a knowledgeable, trained technical troubleshooting customer service representative (CSR) in one of our five area offices.
Meet Bethany
Today, we're shining a spotlight on Bethany Barton, a GVEC Internet Internet troubleshooting CSR in our Gonzales office. She began working at GVEC Internet in 2019 and has been trained in internet for about a year and a half.
Bethany explains the internet training process CSRs go through takes approximately four to six weeks. They learn about what to look for if a customer calls in saying their service is completely down and how to walk them through steps to ensure connections are correctly plugged in, check their signal strength and how to properly reboot the service. Going through this process often remedies the customer's issue on the spot, without having to wait for a maintenance stop to be scheduled.
GVEC Internet Internet Connection and More
They're also trained in setting up and troubleshooting GVEC Internet email services as well. And though they aren't trained for specific devices, the CSRs will try their best to help customers connect some items such as Roku, Firesticks or iPhones to their GVEC Internet networks.
Internet CSRs can also look into payment inquiries, walk customers through gaining access to the My Broadband self-service portal, instruct them on how to download and use the GVEC Internet WiFi app, and more!
Teamwork Makes the Dream Work
When asked how teamwork comes in handy when assisting customers with technical troubleshooting, Bethany tells us there are many ways. She explains many of the more tenured CSRs have seen different or rare issues they can lend their experience from. Also, CSRs are able to help each other sometimes by simply laying a fresh set of eyes to a problem if one of them has been working with a customer on and issue for a while.
Working locally, together in GVEC Internet's area offices means CSRs also get to know people working in other departments. Bethany says getting to know these coworkers and what their jobs entail is helpful if you find issues that may need to be looked into beyond the scope of typical troubleshooting methods.
Adventures in Troubleshooting
According to Bethany, the most difficult part of troubleshooting with customers is not being able to see exactly what they're seeing—especially when attempting to connect some types of devices to their network or when assisting them with email issues. However, she emphasizes that though it may be difficult, it can be done. This is primarily in part to being able to establish clear communication and dialogue with customers, so they're able to accurately describe what they're looking at, and the CSR is able to intelligibly walk them through what to do.
Bethany tells us of a difficult troubleshooting call she received involving a customer with a Q-panel installed that should have allowed them to move their router from one room to another with ease. However, when they moved their router to their bedroom, they had no service. She could see the customer's service showed good signal, so she knew the issue must be with the way the connections were being plugged in or with the device itself. Bethany took the time to walk the customer through every wire, and by the end of the lengthy call, she had the customer up and running with no further issues.
The Feeling of Success
When asked how it felt to successfully help a customer with a more difficult issue like the one she described, Bethany said, "It felt good. It's a great feeling to help a customer that might not have been expecting to have their issue resolved within a phone call. It's teamwork between the customer and you, and the call may be long, but you're able to help avoid a maintenance stop that may have included a two to three day wait."
This, she tells us, is what she likes best about being an internet-trained CSR. "Once we're able to help them connect to their service or with whatever trouble they might be having, the feeling of being able to assist them and the feeling of accomplishment is great!"
Local Customer Service Adds Value
As with all the products and services GVEC Internet offers—dependable electricity, high-speed internet, AC/heating, solar and battery storage, and professional electrician services—we aim to Deliver More through our customer service also. We believe this adds extra value that creates the GVEC Internet experience we aim to provide to all we serve. And we're thankful for Bethany and all our CSRs and other employees who work every day to deliver on this commitment.