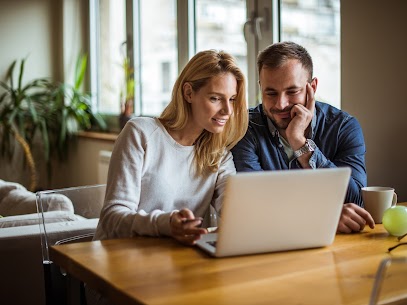 With the GVEC WiFi app, GVEC makes securing internet at your home easy, convenient and worry-free. This app is availble when you rent a Calix Gigaspire® Blast Wi-Fi 6 router from GVEC. The GVEC WiFi app is a powerful tool that gives users access to their home network from anywhere, at any time. This app lets you keep your family safe and secure while completely controlling your house's internet usage. Keep reading to learn more about the features that make GVEC's WiFi App an ideal choice for staying connected no matter where you are in your home.
1. Restrict Content
The GVEC WiFi app is highly beneficial when it comes to parental control since it allows you to restrict what devices your children are able to use and when they are allowed to use them. You can use this app to set filters that allow them access to specific devices and set time limits to dictate when they can and can't use them. You can also turn Wi-Fi access to certain devices off and back on at any time with a simple swipe. The GVEC WiFi app is a valuable tool for parents looking to responsibly monitor their child's online activities.
2. Create Multiple Profiles
With GVEC WiFi, users can manage and track multiple devices within one app. This is especially beneficial for those with various family members or guests who need access. By creating custom profiles, you can tailor which devices and users can connect to. It also allows you to limit or control when each profile can access your connection, giving you peace of mind that your internet is secure no matter who uses it. You can manage them all from one easy-to-navigate dashboard, assign individual settings, and customize each profile based on user needs and preferences. All of this comes with the convenience of easily making any necessary changes quickly and securely from just about anywhere on the go.
3. Effective Organization and Management of Devices
The GVEC WiFi app features a handy "Places" function that allows you to organize your devices in the house according to their location. This way, instead of remembering which device is where, you can use this feature and quickly set up each room or area with a corresponding name and picture. The great thing is that accessing devices in each "Place" is done with just one click. This helps you keep your home organized and eliminates the time-consuming task of searching for specific devices.
4. Easy Setup and Configuration
Because the setup process is so straightforward and user-friendly, users don't need any technical expertise to get started with the GVEC WiFi app. They can take advantage of its features immediately, allowing even novice users to benefit from its robust capabilities quickly and easily. And if users do need help, they can find a video library of useful tips on the gvec.net website.
5. Data Protection and Security
Data protection and security are two of the most important aspects before turning on your wireless internet connection. The GVEC WiFi app provides a safe, secure, and reliable connection that malicious actors can't easily hack or infiltrate. With its powerful encryption methods, you can rest assured that your data is safe and protected while connected to the GVEC network. Additionally, the app monitors performance and regularly updates the firmware to protect your connection from potential threats. Using this app, you can enjoy high-speed internet access with an extra layer of security, giving you complete control over who can access your data and keeping it safe during transmission.
Get the GVEC WiFi App
The GVEC WiFi app has many benefits for managing and controlling your home's internet connection. From real-time monitoring and troubleshooting to managing account settings, this app makes it easy for customers to get up and running quickly while taking full advantage of all that GVEC has to offer.
If you're looking for a reliable home internet provider with excellent customer service and an easy-to-use mobile application, turn to GVEC Internet. Our experts will assist you with enjoying all the benefits of this app and help satisfy all of your advanced internet needs. We also offer comprehensive internet, electrician, HVAC, and solar and battery solutions in South Central Texas and the surrounding areas. Some of our solutions include Wireless and Fiber residential and business internet plans, 24/7 technical support, and home Wi-Fi optimization. Contact GVEC Internet today for exceptional internet solutions.